ORE is working to improve environmental, agricultural and economic conditions in rural Haiti. In the wake of the national disaster, the catastrophichurricane, ORE is focused on efforts to bring relief to the population and offer all available assistance to reduce suffering. Our development projects involve high revenue tree crops, improved seeds (never GMO seeds, never hybrids), cash crops and marketing programs - designed to increase yields and income, produce nutritionally rich foods, and to protect the environment. As Haiti emerges from its current disaster, these programs will play an important role in long-term recovery.
ORE a pour but principal l'amélioration des conditions écologiques, agricole et économiques liées aux milieux ruraux d'Haïti. Dans le sillage du cyclone Matthew, une vraie catastrophe nationale, ORE se concentre sur les moyens d'aider la population et sur les possibilités d'offrir toute assistance disponible pour réduire la souffrance du peuple Haïtien. Nos projets de développements incluent la culture d'arbres à revenus élevés, la culture et la distribution de semences enrichies (jamais OGM, jamais d'hybrides), la production de cultures de rente et la création de programmes de marketing – visant à l'augmentation des rendements et des revenus, à la production d'aliments riches au niveau de la nutrition, et visant à la protection de l'environnement. Parmi les efforts de rétablissements actuels, ces programmes joueront un rôle important dans le redressement à long terme du pays. Lire la page d'accueil en français >>

Your donations to ORE will have a real and lasting impact on reducing poverty and improving the environment in Haiti. Every gift goes straight to the people you want to help. As a US 501(c) Non Profit organization with over 25 years of Haitian-based activities, we are able to keep our costs to a minimum ensuring that your gift goes directly to those with the greatest needs.
Please help us with Our Hurricane Matthew Relief Program
Following the inimaginably widespread devastation caused by Hurricane Matthew we are asking all our friends to please help and donate to a fund that will beused directly and exclusive to bring immediate relief to the thousands sho are homeless and in need of immediate help.
With your help, as a local NGO we can offer directly to those most in need food, clothing and basic necessities, materials to rebuild broken homes, sShelter for those in immediate need, seeds for farmers who have lost their crops, and whatever else is required to rebuilt the devasted communities.
| | |
| --- | --- |
| | Please visit our Hurricane Matthew Relief site at www.oreworld.info for more information and photos. Everything you give will go directly to those in need. |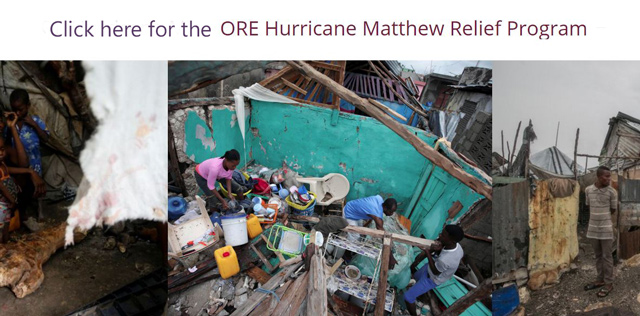 ORE's help after the Hurricane
ORE is providing pure drinking water from our deep well/bottling facility, helping to repair homes and offer food and shelter to those most in need. In order to ensure there will be food and income in the near future we are also supplying seeds to farmers as they have lost their crops and their seed stocks. The seeds being distributed are a variety of vegetable seeds, and also improved seeds bred by ORE in Haiti. All our seeds are naturally bred, open population, never GMO seeds, never hybrids. They are bred using age-old traditional methods to select for higher yield so that the improved seeds perform well even with low-fertilization and rainfed conditions. The improved seeds include high yield local corn seeds, QPM quality protein corn (originally from CIMMYT in Mexico), high yield sweet potatoes, vitamin A rich sweet potatoes, high yield sorghum and bean seeds.
How ORE's core projects are helping the people of Haiti
The Organization for the Rehabilitation of the Environment is a small grassroots organization established in Haiti in 1985 to protect the environment and increase local farmers' income. In the design of our development projects, we recognize that all four aspects of Haiti's rural predicament - economic, ecological, nutritional and technical - are inter-linked. By working closely with farmer groups, over the years, we have been able to offer practical help to the rural population in the south of Haiti, the majority of whom depend on agriculture for their livelihood. Economic gains and improved nutrition result from high value tree crops (grafted fruit trees, such as mango, avocado, citrus - and bamboo), improved seeds (including QPM maize, iron-rich beans) and other high-yield staple crops. These are some of our projects and goals.
A look at some of our main programs in Haiti
Tree programs
ORE's tree programs have given farmers in Haiti an alternative to deforestation and soil erosion. High value mango, avocado and citrus trees provide a solid income to farmers, and stabilize the environment. Grafting makes it possible to clone commercial varieties and promote large-scale production and marketing.
Quality Protein Maize
ORE is currently producing a high-protein, high-yielding variety of corn to help alleviate malnutrition in Haiti. Quality protein maize, or "QPM", originally developed at CIMMYT in Mexico in the late 1990s, contains nearly twice as much usable protein as other maize grown in the tropics and yields substantially more grain than traditional corn. The benefits of this miraculous corn are becoming more widely known.
Regenerating Plantain and Banana Production
The plantain and banana program is designed to address food security issues in Haiti resulting from the current world food crisis and to regenerate production which has been decimated by the black Sigatoka fungal disease. This epidemic disease has virtually wiped out the bananas (a major element of the Haitian diet) grown by subsistence farmers for the domestic market. In today's volatile climate of increasing distress due to the rising cost of importing basic foods, restoring the country's production of this most valuable food crop to its full capacity is absolutely critical.
Vitamin-rich Sweet Potato
ORE is producing vitamin-A rich yellow fleshed variety of sweet potato to help alleviate malnutrition in Haiti. Sweet potato is a key staple food in the Haitian diet and the 'orange flesh sweet potatoes' is very rich in vitamin A, compared the local varieties. Yields from the new varieties are substantially higher than from traditional sweet potatoes which translates into higher income of farmers. Since 2003 ORE has been working collaborating with CIP, a international research centre and participating in AGROSALUD, the regional bio-fortified food program.
ORE has been working in Haiti since 1985
Take a look at what people have been saying about us and our program history.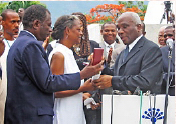 Dr. Mousson Pierre Finnigan, CEO of ORE Haiti, was among 15 women selected
for the national first award of 'Femmes de Mérite' en 2009.